American rapper, Nicki Minaj, is offering fans a jaw-dropping cover art as thanks for their patience, as she channels the Hellenistic period of the Egyptian empire. Yes, Nicki is inferring that her supremacy as a Queen is alive and well, and to be frank, there isn't much competition at the top. So the cover idea should go unchallenged, unless someone deems it culturally offensive.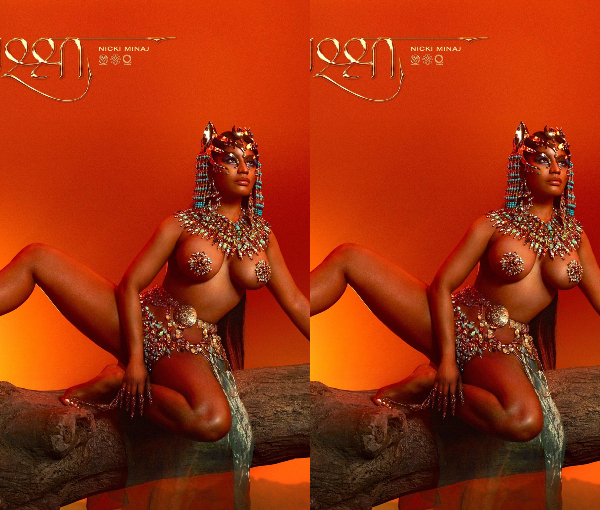 The rapper tapped fashion photography duo Mert and Marcus, who did Taylor Swift's Reputation cover, to shoot the image. On the Queen cover art, Nicki Minaj sprawled on a tree branch, wearing a jewel-encrusted gold headpiece that reads like a cross between Black Panther helmets and Beyoncé's halo at the 2017 Grammy Awards. The cover art for Queen also features the perfect green screen rendering of the sunset (bright orange).
The album, Nicki's first full-length since 2014's The Pinkprint,will feature lead singles "Chun-Li" and "Barbie Tingz," as well as an introduction that features a recording of Eminem screaming Nicki's name. She has also shared a snippet of a yet-unreleased collaboration with Ariana Grande, which may also make the final tracklist. Not much else is known about the project, but Mike Will Made It and Mustard have both hinted that they've been in the studio with Minaj. "Chun-Li" and "Barbie Tingz" producer J. Reid told XXL that Nicki specifically requested boom-bap beats for the project, and also that she's been heavily involved in the production process.
Barbie, for her part, has hyped the album as a classic. "This era will be a billion times more epic than anything Anaconda could have delivered," she told Dazed in September. "I think this era will definitely be the most memorable and the most impactful of my career yet."
Her cover art for Queen is very much a statement of purpose, and it came with the caption;
#Queen 8|10|18  by the legendary #MertAndMarcus @mertalas ~ My greatest work to date. Thank you for your patience & love. Pre-Order next week w|my 2nd single