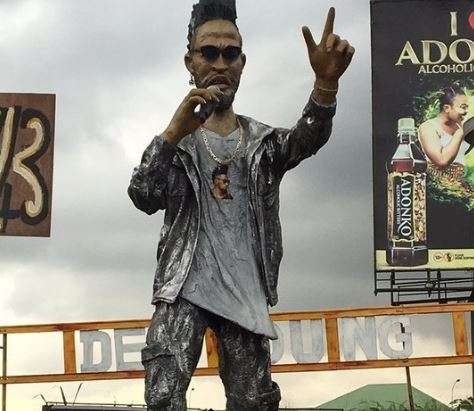 Indigenous rapper, Phyno has joined the list of notable Nigerians with statues made in their image, and we'd like to know what the rapper thinks about it.

The statue attempts to depict Phyno in the midst of a performance. The rapper is dressed in a black ensemble, with an inner shirt that has an image of him in front. His top-heavy Mohawk is also represented, along with something looking like a gold necklace.

The statue made by an unknown artist sits at Eleme, an area to the east of Port Harcourt in Rivers State.

It's all very good stuff, except if you hadn't told us it was Phyno, we probably wouldn't have guessed.

Photos of the statue have made their way to social media and Nigerians are falling over themselves to comment.

One Instagrammer wrote, "Who ever made this statue should be locked up @phynofino sue this motherfucker for image defamation. I dunno what that means sha!!!! but just sue him and the sponsors"
Over the last few years, Phyno has risen to become one of the more familiar faces in Nigerian music, especially in the East of Nigeria. Beast from the East
The rapper's stories of struggle and success told mostly in the Igbo language have endeared him to many in the South of the country, beyond his homestead, in places like Asaba and Port-Harcourt.
It is thus not surprising that some artist would be led to create an image of him. It is also not surprising that the statue isn't exactly a carbon copy of the rapper.
In recent times, we've seen actual examples of what can go wrong when artists don't realise what they envisioned while trying to create a statue.
Sometimes, it's just harmless fun. Other times, like the statue of Chief Gani Fawehinmi at the eponymous park in Ojota, it can threaten to dismiss the individual's legacy.
We can rest easy knowing that this statue of Phyno isn't gonna cause any damage to the rapper's legacy. Still, we're very interested in what Phyno will have to say about this artistic show of love.