Well, what more can you get this season than to be surprised by loved ones - Especially rounding up the year with a change in ones relationship status.
Anyways, our beloved Nollywood actress, Joke Jigan is already rounding up the year with a surprise of getting engaged to her boyfriend Jeg.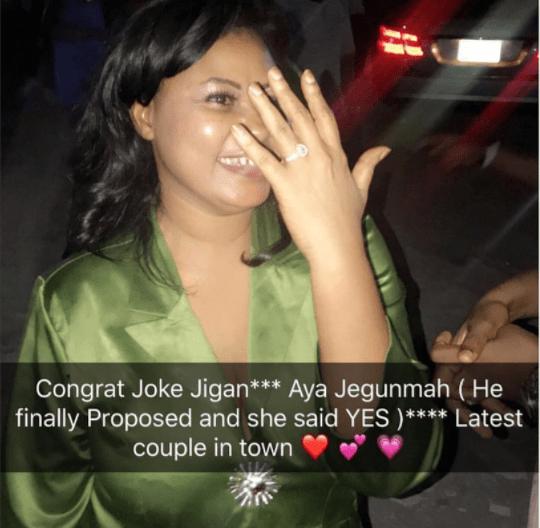 The excited lady who thanked her boyfriend for giving her a Christmas surprise took to social media to reveal her engagement to her boyfriend
She wrote:
"When u popped the question I thought I was going to die!!! I mean u took me to location to shoot earlier today and we were cool I was shocked when u asked me to dress up for dinner because I was dead tired , u invited my best friends , took me to somewhere Ive never been to in my life , u gave me a huge Xmas surprise 2day ago and I thought that was it for the year ! Jeg!!!!! God will continue to bless you and forever put a smile on your face!!!! Am still in shock and when my brother told me he went with u to buy the ring and told me how much I almost fainted ????God will bless u baby u always go out of your way to put a smile on my face ! Jesus!!! Even my friends are still in shock that u could pull through without their support!! I love you my king!!!!!! God bless u for me my support system, my mister fix it Merry Xmas lovers!!!! "