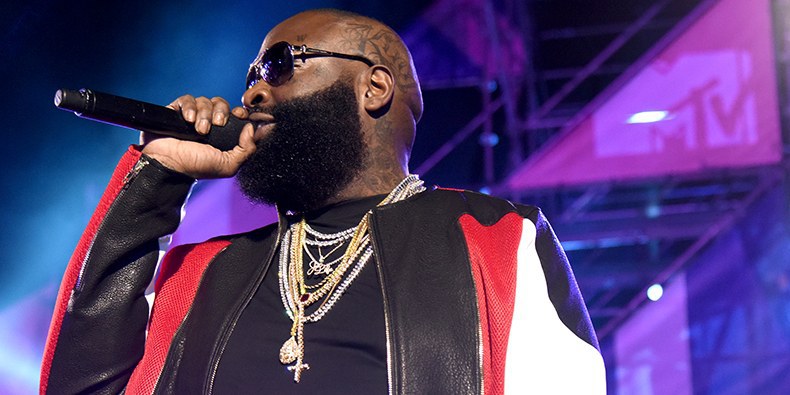 Rick Ross recently gave an interview where, when asked why he's never signed a female rapper to Maybach Music Group, he replied, "I never did it because I always thought, like, I would end up fucking a female rapper and fucking the business up."
"You know, she looking good, i'm spending so much money on a photoshoot, i gotta f**k you, couple times" The rapper said.
Now, after being met with backlash over the remarks, Ross has released another statement. He walked back his previous comments, calling his words "insensitive" and "a mistake I regret."
After explaining that his "entire empire's backbone is led" by his sister and his mother, he wrote, "I have the highest regard and respect for women in this industry." Then, after noting "I have a daughter myself," he continued:
"My comment is not reflection of my beliefs on the issue. A mistake I regret. I hope to use my mistake, my platform and the community to create positive discussion to implement change on a very important issue. respect for the ones who stand up to say hey that isn't right. Now it's time to accept responsibility and all do better.
"I look forward to continue working with & supporting female artists," he wrote. He then plugged the new VH1 show "Signed," which just premiered this week and features Ross as a mentor. Contestants are given the chance to be signed to MMG. "Many of the most talented artists you'll see in the running to be the next #MMG superstars are female artists," he wrote. "I look forward to clarifying my comments through my support."
Ross was under fire in 2013 for his verse on a remix of Rocko's "U.O.E.N.O.," which was interpreted as pro-rape. "Put Molly all in the champagne/ She ain't even know it/I took her home and I enjoyed that/ She ain't even know it." He was dropped by Reebok as a result and issued an apology: "To every woman that has felt the sting of abuse, I apologize."