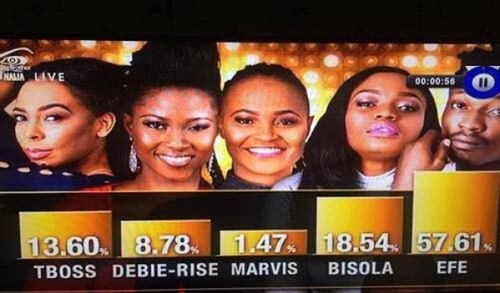 In an explosive article released on Tuesday titled; "#BBNaija: Television as Madness", former presidential spokesman, Reuben Abati, gave his opinion on why Efe (Ejeba Micheal), beat T-boss (Tokunbo Idowu), Bisola (Bisola Aiyeola), Debie-Rise, Marvis Nkpornwi, among others to win the Big Brother Naija show.

On Tboss, Abati noted that: "Given her looks and talents, she would have been a perfect winner. She would have looked good on the billboards. But she lost because of her arrogance. Attitude is everything: this is the lesson of T-BOSS' disgrace and humiliation.
"When she was sent out of the House as the second runner up, the viewing centre in Ikeja, Lagos, including Kemen whose nemesis she was, danced in joy.
"They are taunting me?" she asked Ebuka, the anchor. No, sweetheart, they were making a far more serious statement about you. The melodramatic ending of Big Brother Naija 2017 is its only redeeming outcome.
"Bisola, the first runner up does not even have a degree but she showed talent and resolve, even if her whorish flirtation with Thin Tall Tony is so cheap and self-denigrating. Her One-Nigeria consolation prize is something big she should take seriously.
"Efe won because of his humility. He is considered the poorest and the most needy of the contestants. Patrons of the programme chose to vote for the contestant who looked and sounded like he would need the money and the opportunity.
"They gave him a chance in life, although the organizers must ensure that going forward, the show does not become a poverty alleviation scheme. Bisola came second because she too looked like she needed help.
"Debbie Rise and Marvis also made the finals, but that was meant to be a great compliment to their good conduct, but they didn't have enough support to make it to the top."