From the get go it seemed like it was all about TTT and Bisola but things have been decidely friendly between the two of them ever since they got busy under the covers and set tongues wagging everywhere! There's still lots of play fighting but none of the passionate makeout sessions of old.

So what's gone amiss? Well, it's pretty clear from Bisola's campaign for likes earlier this week that she's still into TTT. She called him handsome and dashing like the "lion on his T-shirt", all the while following him around. He, on the other hand, seemed to keep moving from one room to the next ignoring her. Could it be that TTT has lost interest or is he just trying to keep his head in the game?
In addition to this, Bisola's the one who pushed TTT and TBoss' torward each other at first but now it seems she feels a bit slighted by TTT's interest in TBoss. She even joked out loud last night that he wanted TBoss' "box" and not hers after TBoss pointed out that "Tony" wouldn't like what she was doing with Bally. This was all said moments before she started making out with Bally in the bedroom.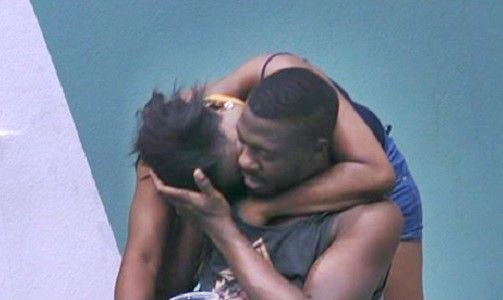 In his defence Bally had literally pleaded with Bisola earlier in the evening to stop teasing him because it had been "seven weeks" and the things he'd once confessed he wanted to do to her were "all true". She kept caressing his chest and kissing his neck anyway and in the end he succumbed.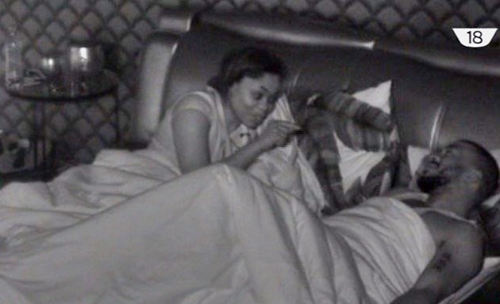 The two of them slipped under the covers kissing and moaning but Bisola left the bed after a few minutes perhaps rethinking her decision to go all the way.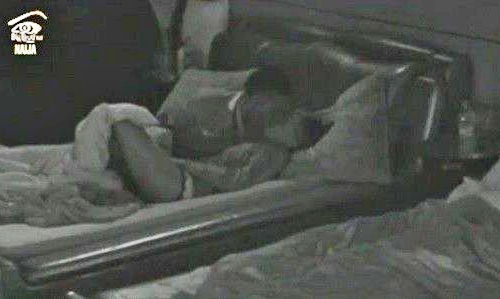 Meanwhile, Efe and Marvis seemed to have reconnected as a result of being this week's wedding couple. They shared a slow, intimate dance before lights out. Efe then slipped into bed and asked for a goodnight smooch.
Marvis gave him a little peck at first before giving in and locking lips with her "husband" in a long french kiss.