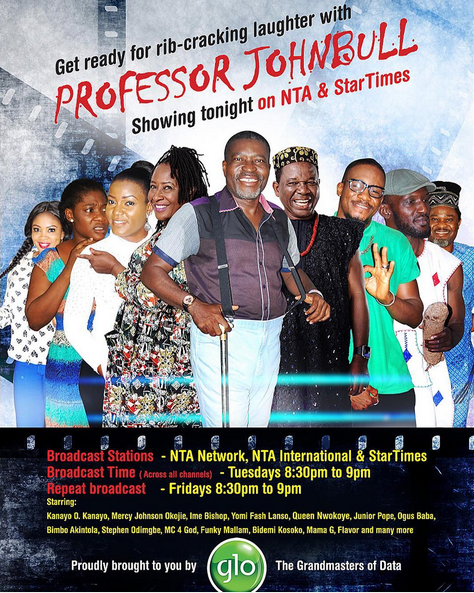 The highly regarded, Globacom-sponsored TV Series, Professor Johnbull, treats the issue of ponzi schemes and the dangers attached to them in a fresh episode which goes on air this Tuesday.

It is the second episode of the third season of the hilarious weekly drama series, and it is entitled 'Make Money Miss (MMM)'. The episode beams its searchlight on the inherent dangers in participating in online money-multiplying schemes, otherwise known as Ponzi scheme.
"Make Money Miss is projected to caution people to be wary of the many online money networks dotting the Nigerian landscape and the need to be circumspect in determining how they invest their hard-earned monies so as not to fall victim to scams or lose their life savings, especially at this hard time" the producers said in a statement.
"We believe that arts mirror the society and serve the major purpose of being the barometer to gauge the moral standing of the society. This is exactly whatProfessor Johnbull has been doing since it came to the Nigerian airwaves and we are more than encouraged by the feedback from the viewing public", the producers added.

Make Money Miss will throw light on the question of whether greed plays a role in such schemes or ignorance is the major factor. It will try to educate viewers on what constitutes a blind risk and whether there are in fact legitimate and wholesome online investment schemes that people can go into.

The new episode features the regular stars, including Professor Johnbull (Kanayo O. Kanayo), Flash (Stephen Odimgbe), Elizabeth (Queen Nwokoye), Caro (Mercy Johnson Okojie), Olaniyi starred by Yomi Fash-Lanso, Samson (Ogus Baba), Jumoke (Bidemi Kosoko), Ufoma (Bimbo Akintola), Mai Doya (Funky Mallam) and Abadnego (Martins Nebo).

The programme airs on NTA Network, NTA International on DSTV Channel 251 and NTA on StarTimes at 8.30p.m. The repeat broadcast of the episode comes on air on Friday on the same channels at the same time.