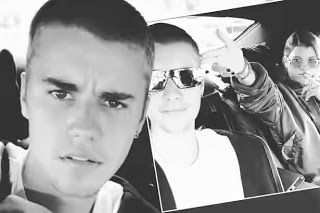 Selena Gomez has offered her ex boyfriend a few words of wisdom after he threatened to go private on his Instagram .
The 'Sorry' singer threatened to delete his Instagram after fans started hounding his rumoured new girlfriend , Sofia Richie.
The 22-year-old posted on the social media site: "I'm gonna make my Instagram private if you guys don't stop the hate this is getting out of hand, if you guys are really fans you wouldn't be so mean to people that I like. (sic)"
Thousands of fans rushed to condemn their idol for picking a girlfriend that they didn't deem suitable and daring to criticise his own followers.
But Twitter went into meltdown after Justin's ex-girlfriend Selena appeared to comment on his Instagram.
She wrote: "If you can't handle the hate then stop posting pictures of your girlfriend lol - it should be special between you two only.
"Don't be mad at your fans. They love you."
Former Disney star Selena also appeared to stick the knife in, later posting a collage of pictures of her interacting with her own fans.
She captioned the snap: "My whole life. You matter most. Thank you letting me do what I love every day."