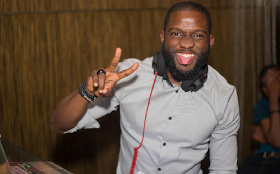 Nigerian DJ, DJ Obi has broken a world record. DJ Obi who set out to break the world record for longest DJ set has made it. He broke the record this morning, July 1st, 2016 around 7:00am. Obi had set out to overtake DJ Norberto Loco of Poland who currently holds the record for 200 consecutive hours.
Obi started out on Wednesday, June 22nd, 2016 at 11:30pm at the Sao Café, Lekki Phase 1 and has been playing for 8 days consecutively without sleep.
He is still on it, as he intends to make it a 10-day thing. What a record. If you are in Lekki Phase 1, do stop by and cheer Obi on, a record is been broken in your neighbourhood, he is your brother, let's support our own. Go DJ Go Dj Go...