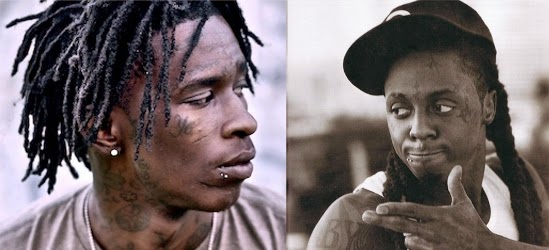 According to a MediaTakeOut exclusive report, rapper Lil Wayne's tour bus was shot up last night in Atlanta and fingers are pointing at Lil Wayne's label mate, rapper Young Thug. Read the report below
"The Hip Hop beef between rapper Young Thug and Lil Wayne, may have looked innocent - but last night it reportedly took a deadly tunr.
According to multiple source connected with MediaTakeOut.com, Lil Wayne's tour bus was shot up last night, while he was in Atlanta. And the streets say that it was Yound Thugs Goons that were doing the Poppin.
According to one of MediaTakeOut.com's peeps associated with THUG, "Thug is very peaceful, Non violent, and he respects Wayne. But the trap n*ggas around him are different. They feel that Wayne's a f*ck boy." Much of the HARSH feelings about Wayne, stem from Wayne's LAWSUIT against his former father figure, Cash Money founder Birdman.
So here's how it all POPPED OFF. Lil Wayne performed last night at COMPOUND NIGHTCLUB in Atlanta and he had the place TURN'T. It was all cool . . . until a few TRAP DUDES associated with Young Thug approached Weezy in VIP. Weezy's security BLOCKED the goons from entering but the group of men ALLEGEDLY threatened LIl Wayne, saying,"THUG SENT THEM WITH THE STICKS" to settle any beef with Lil Wayne.
Shortly after the confrontation, Lil Wayne and his entourage LEFT THE CLUB - in a tourbus and a fleet of SUVs. The bus was later SHOT AT more than a DOZEN TIMES, by unknown assassins. The shots occurred OUTSIDE OF THE PROPERTY of Compound Nightclub - so the club is 100% NOT AT FAULT here.
Here's Wayne performing TRUFFLE BUTTER minutes before the BULLETS STARTED FLYING.